by Adam Stazer and Michael Wilke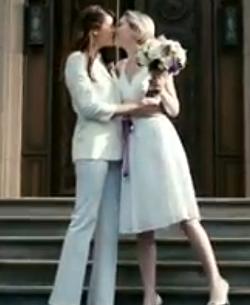 As state after state passes marriage equality for same-sex couples, and programs like the New Normal and Modern Family show gay couples raising children together, advertisers now too are making a meaningful shift to saying "I do" to what has historically been a sensitive topic for many retailers.
New commercials from Microsoft, Amazon.com, Expedia and Nordstrom have all featured same-sex marriage themes, and print ads from Target, The Gap, J.C. Penney, Crate & Barrel and even Amtrak have featured gay and lesbian couples living in domestic bliss.
Microsoft's new commercial for Outlook.com includes a just-married lesbian couple that kisses on the steps while guests throw rice. The spot highlights a trend of how advertisers increasingly feel that inclusive images of gays and lesbians can positively affect their bottom line.
A Microsoft spokesperson noted in a statement to AdRespect, "This ad campaign highlights how Outlook.com provides a modern email experience for modern people. And so our ads depict modern relationships found in today's society and showcase how Outlook.com helps get you up-to-date."
This national ad campaign is in line with Microsoft's progressive stance on gay rights. In fact, the company supported successful legislation to legalize same-sex marriage in Washington State and Microsoft founder Bill Gates donated $500,000 to the campaign. This spring, Microsoft signed onto a brief supporting same-sex marriage delivered to the Supreme Court in advance of the arguments in support of striking down section three of DOMA. And back in 1996, Microsoft opposed the anti-gay Defense of Marriage Act.
However, coinciding with the Outlook.com same-sex marriage ad, Microsoft also co-sponsored the Conservative Political Action Conference 2013, an annual gathering sometimes called the Republican Woodstock, organized by the American Conservative Union. An array of high profile, conservatives spoke at the conference Mar. 14 to Mar. 16, including former presidential candidates Mitt Romney, Rick Santorum, Michele Bachman and Ron Paul, along with vice-presidential candidates Sarah Palin and Paul Ryan, and anti-gay activist Phyllis Schlafly founder of the Eagle Forum, a prominent conservative interest group whose mission statement proudly exclaims, "Eagle Forum successfully led the ten-year battle to defeat the misnamed Equal Rights Amendment with its hidden agenda of tax-funded abortions and same-sex marriages."
In previous years, CPAC has excluded the conservative gay Republican organization GOProud from presenting.
When asked about its sponsorship of a conference featuring anti-gay speakers, a Microsoft spokesperson responded, "Microsoft participates in the political process on a bipartisan basis in a variety of ways, including sponsorship of events, membership in trade associations and other ways. We engage with people on both sides of the aisle as part of this process on a regular basis." AdRespect also contacted members of GLEAM (Gay and Lesbian Employees at Microsoft) for comment but received no response.
Although Microsoft has demonstrated an excellent record on supporting gay rights, co-sponsoring a political gathering that has historically been one of the most prominent platforms for anti-gay rhetoric seems out of step for the company. In a February 2012 CPAC speech, Republican presidential candidate Mitt Romney pledged to defend the anti-gay Defense of Marriage Act and push for an amendment to the Constitution banning same-sex marriage. National Organization for Marriage leader Brian Brown's comments in an interview on Michelangelo Signorile's SiriusXM OutQ radio program exhibit the continued pervasive opposition to marriage quality among those at CPAC.
While the lesbian marriage in Microsoft's Outlook.com commercial represents the bright side of corporate advertising depicting gays and lesbians, the influence of anti-gay groups corporate America sometimes still remains.